The God Questions Booklets – Do All Roads Lead to Heaven?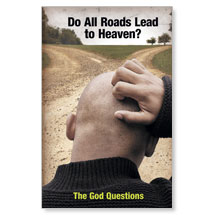 This 8-page booklet features appealing, full-color graphics and straight-forward answers on the differences between the top religions and their teaching
God Questions Roads covers Christianity, Buddhism, Hinduism and Islam in a way that shows the compelling evidence and grace of the Christian faith.
The final page includes a gospel message and prayer.
Order God Questions booklets when you want to give people a tool that answers their questions about different religions but you need to watch your budget.
Size: 8 pages – 8.5 x 5.5 inches
Pack of 50 for $17.50 – only .35 each
Cost: $17.50
Interested in more resources?
Learn more about hosting a God Questions Campaign: