The Future History Church Campaign saw attendance at New Song grow by 18%.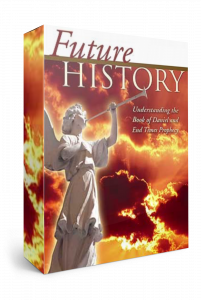 These days of economic uncertainty, political turmoil, and societal shifts make us wonder what the future holds.
New Song Church saw new small groups form and attendance surge during this series because it attracted the community by addressing the questions they were asking about their future.
Preach relevant and Biblical messages using this sermon series as part of a church-wide campaign.
Cost: $39.95
What's Included in The Future History Campaign Kit:
This kit has everything you need to conduct a successful church-wide campaign:
Nine weeks of sermons on the book of Daniel to jump-start your message prep
Message note templates
Cover art, maps, and other visuals to use in your messages
See What Others are Saying:
"Hal takes Daniel off of the Sunday school flannelgraph and puts him smack in the middle of the real-world neighborhoods, workplaces and culture we live in. Daniel's incredible stories and prophecies are unwrapped with clarity and real-life applications that will leave you with a better understanding of God and His ultimate plan for your life."

Dr. Larry Osborne
Author of Sticky Church and Pastor of North Coast Church of Vista, CA
Cost: $39.95
Order the Future History Participant's Guide in bulk and SAVE!
Buy the Future History books in bulk for each person to use for daily individual reading and small group discussions during the campaign.
See the Future History Participants Guide
Why use the Future History Church Campaign from Pastor Mentor?
1. You know the constant pressure to preach.
You want your preaching to be world-class so your congregation grows in their knowledge of the Bible and their love for Jesus.
But that's hard to do every seven days.
Hal gets that. Like you, he's a Lead Pastor in a local church preaching nearly every weekend, working to lead a growing church.
2. Church campaigns ignite enthusiasm and commitment.
Hal writes and publishes church campaigns because he knows they bring growth at his church – and he wants to help other pastors experience the same growth.
He has partnered with Outreach, Inc. and InterVarsity Press and his campaigns have been used by hundreds of churches around the world.
3. A church campaign is easy to do.
There are 3 steps to holding a church campaign:
Plan it. Set the dates and pick a campaign.
Prep it. Get the free download "The Ultimate Checklist for a Church Campaign" to see how to maximize your results.
Hold it. Preach with confidence and excellence. See new attenders and spiritual growth.
Order an all-digital Future History Campaign Kit today!
Cost: $39.95
Customers Also Bought: