Looking for the practical "how to" for developing systems in your church?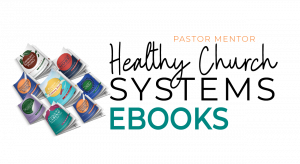 You don't need to figure it out by yourself. Use these proven ideas.
Ebooks by Dr. Hal Seed
Only $9.97
In these Healthy Church Systems ebooks you will find clear, simple plans to develop each major system in your church.
These ebooks won't take long to read, but they are packed with proven ideas that will help you develop effective systems to grow a better, bigger church.
---
Keeping your Guests Coming Back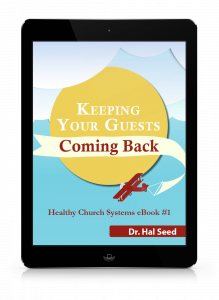 Convert first-time guests into members with this comprehensive and practical assimilation system.
This resource arms you with:
The 7 elements of an excellent welcoming system.
The 3 actions to get second-timers to return.
The 1 vital event to make members out of third-time guests.
Every guest is a gift from God!
Your most important goal with newcomers is to get them to return, and then return once again until they give their lives to Jesus, connect with others, and become actively involved members.
---
Attracting More Newcomers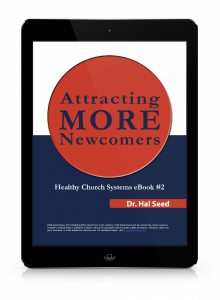 Strategically reach into your community, leveraging the strengths of your members, and the seasons of the year, to attract people to Christ and to your church.
This resource unpacks:
The 3 most important principles in becoming effective fishers of men.
The 6 proven strategies for reaching your neighbors.
The 5 target times of the year that are most effective in attracting unchurched people.
This ebook will equip you to excel in attracting newcomers, particularly the unchurched, to your congregation.
---
Developing Generous Givers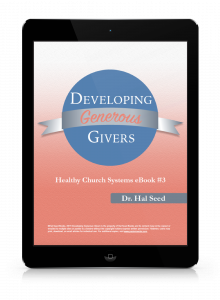 You can organize a seamless financial system in your church that moves people from non-givers to generous givers.
Find out:
The 3 central benefits of a fully developed financial system.
The 5 types of givers in your church and the 5 different reasons people give.
The 10 ways to help your church reach its full giving potential.
If you'd like to learn how to raise the financial maturity level of your members, increase your ministry budget, and monitor that budget effectively, this ebook is for you!
---
Growing Spiritual People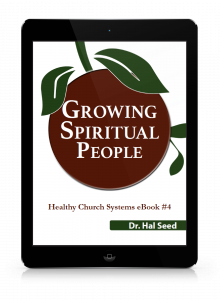 You may have found it difficult to teach people how to to begin growing in their relationship with Jesus – and how to continue growing.
This resource will show you how you can outline a spiritual growth path tailor-made for the size, resources, and personality of your church.
If you'd like to learn an effective, proven, scalable church-wide system for discipleship from new believer to mature saint, this ebook is for you!
---
Placing & Keeping Great Volunteers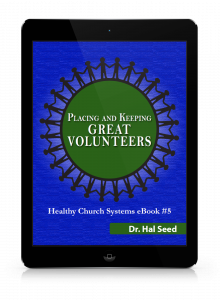 Because it takes growing numbers of volunteers to keep a growing church growing, this resource outlines:
The 6 ways to enlist new volunteers.
The 9 steps in a healthy inviting/recruiting process.
The 8 inviolable principles of healthy ministry placement.
We'll also show you how to develop:
A "ministry career path" for each volunteer.
The 3 types of training every volunteers needs.
If you'd like to learn how to invite, observe, orient, schedule, equip, develop and celebrate the volunteers in your church this ebook is for you!
---
Putting On and Pulling Off Meaningful Worship Services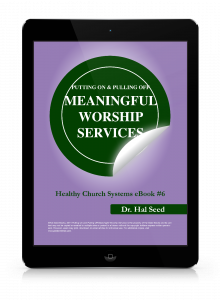 Forge a worship planning system that harnesses the best of you and your team.
Gear up for great programming with:
The 3 essential elements of a great worship planning system.
The 5 critical questions that must be answered in a compelling sermon.
The 6techniques that help people remember and apply a message
Plus the 14 ways to improve your preaching (one of which you can implement immediately!)
If you'd like to learn how to improve your sermons and worship services while saving yourself time, this ebook is for you!
---
Becoming the Most Caring Church in your City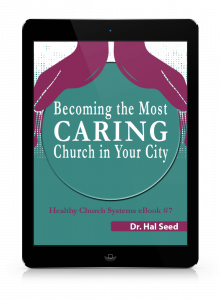 Guarantee that you have a system that gives every attender the care they need – when they need it.
This ebook will explore:
The 3 components of healthy church's care system.
The elements that cause people to "stick" to a church.
The 5 crucial principles of care.
How small group leaders can become your church's first line of care.
If you'd like to become a church that is known for caring for people, this ebook is for you!
---
Evaluating your Church to Make it Better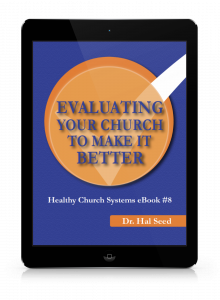 Everyone who attends your church is evaluating it. Shouldn't you evaluate, too?
Just as the wise farmer continually evaluates his crops for the best possible harvest, so we must keep in sight the 5 most important things to evaluate to reap the greatest harvest in our churches.
This resource lays out:
The 7 questions to ask after every important event.
Sample agendas for super-productive two-day Board and Staff evaluation retreats.
If you'd like to learn how evaluate and improve the health of your church, this ebook is for you!
---
The Step-by-Step Guide to a Successful Christmas Offering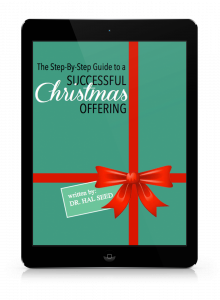 The Christmas season provides a unique opportunity to accomplish three great goals for your church:
Teach people to be generous.
Free up money for ministry.
Unleashing feelings of joy.
This resource lays out 20 perfectly-timed steps to lead your church in the perfect Christmas offering beginning with your September 15 decision of what to fund and ending with your February 1 evaluation of how it went.
---
Goal Setting for Pastors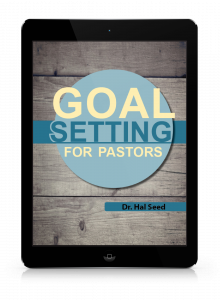 Would you like to be sure you're setting the best possible goals?
And what if you could be confident that those goals were from the Lord? And achievable?
You'll get a practical method for setting goals that will help you to accomplish what is important for ministry leaders – and have a better pace of life at the same time.
This is the tool you've been looking for to be a world class goal-setting, goal-accomplishing pastor.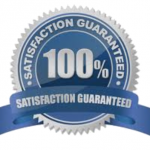 ---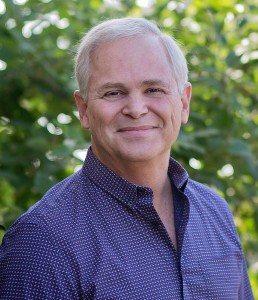 Hal Seed is the founding and Lead Pastor of New Song Community Church in Oceanside, CA. He mentors pastors who want to lead healthy, growing churches with resources at www.pastormentor.com.
Start Here to learn more about the resources available for you at PastorMentor.