I Love Sundays Small Group Kit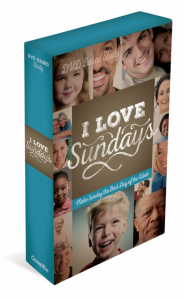 Cost: $14.95
For the Small Group Leader
Launch small groups around the I Love Sundays campaign and see even deeper spiritual growth and church involvement.
Through Scripture, discussion questions, and weekly applications, participants will explore how their family relationships, work, finances, and health can all be transformed by the simple decision to make Sunday the best day of their week!
These are the five small group topics:
Sundays Can Surprise You—whether you attend church regularly, occasionally, or never, your Sundays can be better if you decide to invest something great into it
Sundays Can Change Your Whole Week—by preparing for it like it's the highlight of your week, your Sunday experience can provide a beautiful rest and rhythm to the rest of your life
Sundays Can Change Your Whole Family—serving together at church and spending meaningful time together on Sundays brings closeness and establishes a path for children to continue on when they grow up
Sundays Can Change Your Eternity—by receiving Jesus' offer of new life, you are invited to become a member of God's family and share your story with others
Sundays Have Changed the World—the Church has changed (and is still changing) the world more than any other entity on earth—and you are a critical part of it!
The Small Group Study Kit includes:
DVD with one I Love Sundays promotional video
Digital resources: Small group sign-up sheet template, bulletin insert template, promotional flyer template, and social media graphics
Leader's Guide with tips for hosting and facilitating an effective small group study
Small Group Study Guide
I Love Sundays Individual Study Guides

This guide is perfect for group, family, and individual study.
It includes Scripture readings, discussion questions, and practical ways you can apply these truths to your life and discover that the real solution to making your Sundays and your life better is to start with God and His Church.
Every small group member will need a copy of the I Love Sundays Study Guide.
1-9 Book(s) – $7.95 Each
10-Pack – $69.50 Each
Customers Also Bought: