The God Questions answers common questions about God.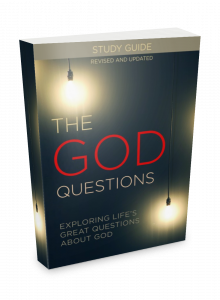 1-9 Book(s)     $9.95 Each
10-Pack            $89.50     ($8.95 Each)
25-Pack            $199.00   ($7.95 Each)
30-Pack            $238.50   ($7.95 Each)
This study guide grapples with the eight most commonly asked questions about God.
It will help you figure out what you believe and how to explain it to others.
How do I know that God is real?
Is the Bible really the Word of God, or is it just an ancient book?
Why are Christians so exclusive?
Is there really only one way to heaven?
Use it is a 40-day spiritual journey or cut straight to the questions that bother you most.
See what others are saying about The God Questions!
"A good question is often as important as a good answer
and "The God Questions" guides you through plenty of both."
Judson Poling, editor of The Journey Bible
Order your God Questions Study Guides today!
1-9 Book(s)     $9.95 Each
10-Pack            $89.50     ($8.95 Each)
25-Pack            $199.00   ($7.95 Each)
Customers Also Bought:
Learn more about holding a God Questions Campaign: