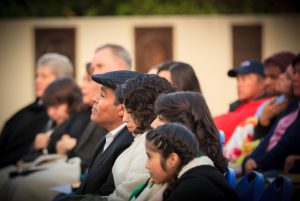 Pastors know that Easter is the most important day on our calendar. Not only did Jesus' resurrection change eternity, but more lives can be reached and changed on Easter than any other day of the year.
If you've done your inviting well, your Easter service will be filled with four types of people.
Each of these types of Easter guests come with different experiences and expectations. Each one wants and needs something different.
If Easter is to be life-changing for them, you'll need to do what they need, in order to reach them where they are, and move them closer to Jesus.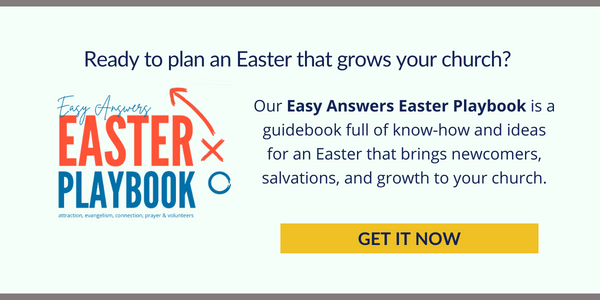 4 Types of Easter Guests
1. Church Family
The largest segment of your Easter audience is your church family. These folks are the faithful who attend almost every weekend.
They come on Easter because it's the biggest day on the church calendar. They're not coming to be fed. They're coming to experience. For them, it's all about the party: Jesus rose, His family is gathering, and we're here to celebrate and to serve our guests today.
On Easter, these people need the music, not the message. They need you to be happy while giving the message. It's all about rejoicing.
2. Church Fringe
Your second largest audience on Easter is your church fringe.
These are your under-involved folks who come once a month or once-in-a-while. Easter is the one day when their reason for coming is identical to the church family.
On normal weekends, the family comes to worship, serve and grow. The fringe comes to worship, receive and be inspired.
On this day, like the family, the fringe comes for the party. They need the music. During the message, they want you to be inspiring.
3. Cultural Christians
Your third largest audience on Easter is your traditionalists.
These folks come on Easter because doing church on Easter is part of their cultural background. After all, you can't think of yourself as a Christian unless you attend on Easter.
While family and fringe need the music to celebrate, cultural Christians don't really need the music.
In fact, they come to church so seldom, they're likely to be out-of-step with your music. They missed the worship revolution. They may think hymns are still the primary artistic expression of the church.
Cultures don't need the music. They need the message.
The family needs you to be happy during the sermon. The fringe needs you to be inspiring so they will come more often. Culturals need you to explain the new life that is available in Christ. They've missed it.
They don't know there is something deeper that can be experienced in their spirits. Culturals need the good news!
4. Skeptics
Your fourth audience on Easter is the skeptics. These folks come to church because they have to.
Somebody they love, like, or are related to, insisted they come. Easter audience skeptics aren't necessarily hardcore spiritual cynics. They just don't believe, have barriers to belief, or are indifferent to belief.
This audience represents a growing segment of America. Skeptics need a reason to believe.
Like culturals, skeptics don't need the music, they need the message.
Where culturals need new life explained to them, skeptics need new life illustrated for them. They need to be able to see and believe. They need to be able to picture the spiritual realm. And picture it with them included in it, enjoying it, and benefiting from it.
What are My Preaching Goals to Reach Easter Guests?
My goal every weekend is to be an instrument of God to move people closer to Him.
Most Sundays, that means a dynamic sermon where the family is fed, the fringe are encouraged to move closer in, the lost are invited to become family, and visitors are inspired to return.
Easter is more focused on the outer audiences.
I'm called to rejoice with those who rejoice, and that's all the family needs. They'll grow by serving and celebrating.
My goal with the fringe is to encourage them to come more often.
Their present pattern means they'll obey Hebrews 10:25 ten or twenty times this year. To get them to increase that and experience more of the fullness of life in Christ, they must leave our service saying, "I need to come back next week."
My goal with the culturals is to get them into a new life with Jesus.
My goal with the skeptics is to get them to consider the possibility of a new life with Christ.
What To Do To Reach Everyone
1. What you do to reach your church family mostly happens ahead of time.
During the weeks leading up to Easter, you want to equip them to invite friends, mobilize them to put on the Easter party, and remind them of the importance of Easter.
2. To induce your fringe to return next week, offer them a high-value sermon series.
At New Song after Easter I'll be starting a two-week series called Gaining Control of your Money.
The top four needs of most Americans are about their money, their family, their marriage, and their questions about God, life and the future.
My post-Easter series will only be two weeks long because I want everyone to have to return immediately. If you want help with your money situation, you've got to be here next week, or the week after at the latest.
3. To bring culturals to Jesus, I have to explain the gospel.
And I have to do it in a clear and compelling way. I've got to answer these five questions:
1. Why do I need a Savior? (Because I've sinned and fallen short.)
2. How did Jesus make salvation possible? (He paid for my sins by His death.)
3. What will happen to me if I receive Jesus' free gift? (The quality of my life will begin to change immediately, and the place of my eternal dwelling will be heaven when I die. I will give many examples of immediate life-change, like hope, purpose, forgiveness, fellowship with believers, the indwelling of the Holy Spirit, a spiritual gift, and angelic ministry.)
4. How do I receive this free gift? (I must repent, believe, and receive.)
5. What must I do after I receive this free gift? (I must begin to relate to God regularly, through prayer, Bible reading and participation in church.)
4. To help skeptics consider the possibility of having a spiritual life, I have to be relatable and believable.
They must be able to see me as someone they might want to befriend.
Successful salesmen first sell themselves, then they sell their product. That's a little worldly for a Christian minister, but the principle holds: before people will like your Jesus, they must like you. A corollary is, people don't care how much you know, until they know how much you care. If I seem like a know-it-all in my sermon, skeptics won't care how much I know or can explain to them.
They must want to believe because they believe in me.
How do I Prepare for an Easter that Reaches Everyone?
So what does all this mean for your Easter preparations?
1. During the weeks leading up to Easter…
On Sundays, equip your church family to invite their friends. And invite everyone to serve on Easter Sunday. During the week, prepare yourself to preach a short, need-based series during the two weeks after Easter.
2. On Easter Sunday morning…
Get dressed in normal clothes that communicate to your skeptics, "We could be friends." The clothes should also be nice enough that your culturals will think, "This is church."
3. Before the service starts…
Greet as many family members as possible. Consider hanging out in the lobby during the first fifteen minutes of the service to touch as many as possible.
4. During the sermon…
Preach with a smile. Give a message that explains the gospel, and either mentions or is related to the series you will be starting next week. Invite people to receive Christ, with an explanation of not only how to, but the benefits they will receive when He enters their life.
5. At the end of the service…
Create a reason for your culturals and skeptics to engage with you in conversation.
Just before the benediction in each of our Easter services, I will hold up a stack of the Gift Edition of The God Questions and say, "Hey, I've got some free copies of a book here that I think will help you. It answers the four major questions everyone has about God. If you'd like a copy, I'll be standing right here after the service. I'll gladly give you one if you'll read it. It's a gift book, so I'll even sign it for you if you want."
Signing the book gives me the chance to get the person's name, ask some things about them, listen to why they would want answers to their God questions, and encourage them to come back next week.
Staying in the auditorium to sign books means I'll miss recessionally greeting my family and fringe on the way out. But they got what they came for, and we'll see each other soon enough.
The culturals and skeptics who seek me out for a book are the ones who have experienced a tugging of the Holy Spirit. I want to concentrate on them because this may be my only chance with them.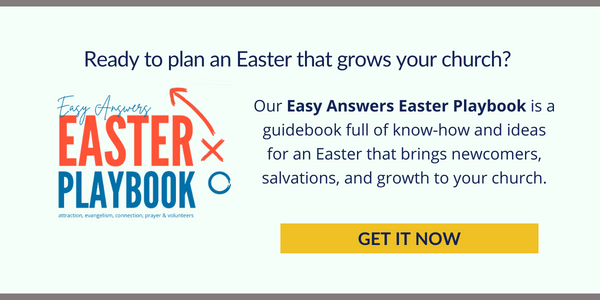 What's Next?
Easter guests aren't all the same, so don't treat them the same. Give them all your best, which means thinking about and planning for every type ahead of time.
If you want to give your Easter newcomers a gift, you can order The God Questions Gift Edition here: God Questions Gift Editions.
Further Reading
---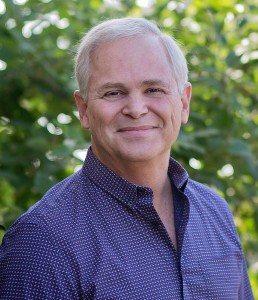 Hal Seed is the founding and Lead Pastor of New Song Community Church in Oceanside, CA. He mentors pastors who want to lead healthy, growing churches with resources at www.pastormentor.com.
Start Here to learn more about the resources available for you at PastorMentor.