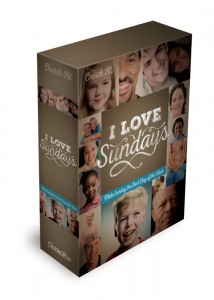 Make Sunday the Best Day of the Week!
Cost: $49.95
Take your church through this five-week experience and help them discover how Sundays can make the rest of their lives better.
The I Love Sundays Church Campaign  Kit includes:
Campaign Planning Guide

Resource DVD with sermon bumper videos, countdown clock & promotional video

5 customizable sermons 

Web and social media graphics

Small Group Study Kit with Leader's Guide & Study Guide

An I Love Sundays gift book

An I Love Sundays T-shirt

An I Love Sundays wristband

Sample promo tools
Help Your Church Members Discover The Power Of Connecting With God's People
It used to be that Sundays were set aside for church, rest and families.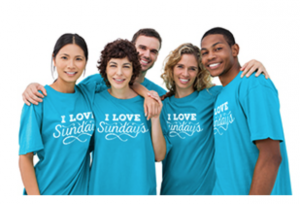 But for most people, Sundays have become just another busy day of the week with no time left for church or quality time with family. At the same time, more and more people are wondering why life isn't working so well for them.
Just as God rested on the seventh day after creation, He wired us to also need rest, relational connection and spiritual renewal once a week.
Living Sundays the way God meant for them to be will lead to benefits that cascade into just about every area of life.
Through the 5-week I Love Sundays campaign, your members and visitors will discover how their relationships, work, finances, and health can all be transformed by the decision to make Sunday the best day of their week!
The Campaign Kit includes everything you need to plan the series, preach the sermons, and get people involved in the campaign.
Order the I Love Sundays Gift Book in bulk and SAVE!
Get the I Love Sundays Gift Book in bulk for each person to use for daily individual reading and small group discussions during the campaign.
See the I Love Sundays Gift Book
Why use the I Love Sundays Church Campaign from Pastor Mentor?
1. You know the constant pressure to preach.
You want your preaching to be world-class so your congregation grows in their knowledge of the Bible and their love for Jesus.
But that's hard to do every seven days.
Hal gets that. Like you, he's a Lead Pastor in a local church preaching nearly every weekend, working to lead a growing church.
2. Church campaigns ignite enthusiasm and commitment.
Hal writes and publishes church campaigns because he knows they bring growth at his church – and he wants to help other pastors experience the same growth.
He has partnered with Outreach, Inc. and InterVarsity Press and his campaigns have been used by hundreds of churches around the world.
3. A church campaign is easy to do.
There are 3 steps to holding a church campaign:
Plan it. Set the dates and pick a campaign.
Prep it. Get the free download "The Ultimate Checklist for a Church Campaign" to see how to maximize your results.
Hold it. Preach with confidence and excellence. See new attenders and spiritual growth.
Order your I Love Sundays Campaign Kit today!
Cost: $49.95
Customers Also Bought:
Learn More About Holding an I Love Sundays Church Campaign:
What 500 Churches Discovered about Making Sunday the Best Day of the Week