If you think you know the story of Jonah, think again!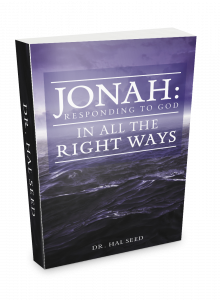 1 -9 Book(s)    $9.95    Each
10-Pack            $79.50 ($7.95 Each)
Called by God to reach the Ninevites, Jonah runs the other way, triggering a cosmic dilemma: what does God do with a wayward prophet?
In four short chapters, God proves His greatness and graciousness by redirecting, restoring, and then using Jonah to spark an evangelistic fire never before seen in history, as an entire city turns to God.
Jonah: Responding to God in All the Right Ways will enrich your time with God, help you understand the twin peaks of His character, lead you in a daily response to His greatness, and motivate you to want to serve Him more fully.
In this study, you will learn:
How God disciplines His children.
How fear can be turned to faith.
How to pray when in deep distress.
How to keep a tender heart toward God.
How to become a great question-asker.
How God gives second chances.
How to memorize Scripture.
How God feels about the least loveable people.
How God teaches His servants.
How to respond to God's greatness and grace.
 Jonah: Responding to God in All the Right Ways is a four-week spiritual experience that can be used in three ways:
Individually, with four weeks of daily readings.
With a small group, using the weekly discussion guides.
In a church-wide campaign, with downloadable sermons.
Order your Jonah books today!
1 -9 Book(s)    $9.95     Each
10-Pack            $79.50  ($7.95 Each)

Customers also Bought: