The Bible isn't meant to be left on the shelf.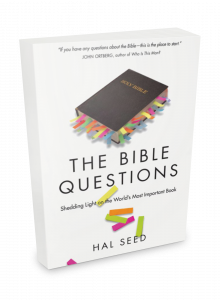 1-9 Book(s) – $10.95 Each
10-Pack – $89.50  ($8.95 Each)
25-Pack – $199.00 ($7.95 Each)
Everyone has questions about the Bible.
Where did it come from?
Who wrote it?
Why are people so inspired by it?
Or so fearful of it?
What does it have to do with my life?
"If you have any questions about the Bible – this is the place to start."
– John Ortberg
The Bible Questions takes you on a tour into and behind the Bible. Get to know the Bible and the God who makes himself known in it.
In this book you will find answers to 20 questions about the Bible:
Primary Questions, like who wrote the Bible and how accurate is it.
Purpose Questions, like what's the Bible's purpose and can the Bible make me a better person.
Probing Questions, like why was God so violent in the Old Testament and is there only one way to heaven.
Practical Questions, like how do I study the Bible and where can I get help with the Bible.
What Others are Saying about the Bible Questions:
"This lively book covers important ground for the curious, the new believer, and even the veteran follower of Jesus. It's good theology, stimulating content and rich with practical application."
–  Warren Bird, research director for Leadership Network

"The Bible Questions answers what both Christians and non-Christians are asking about the Bible. I highly recommend it!"
–  Scott Evans, president of Outreach, Inc.
The Bible Questions is a five-week spiritual experience that can be used in three ways:
Individually, with four weeks of daily readings.
With a small group, using the weekly discussion guides.
In a church-wide campaign, with downloadable sermons.
1-9 Book(s) – $10.95 Each
10-Pack – $89.50  ($8.95 Each)
25-Pack – $199.00 ($7.95 Each)
Customers also Bought:
See More about the Bible Questions: