Teach Your Whole Church to Love God's Word!
Cost: $49.95
Lead your church through a 6-week series devoted to helping them understand and love the Bible.
The Bible Questions Church Campaign:
Starts with Bible basics and teaches people how to study the Bible for themselves

Answers the top twenty questions people have about the Bible

Develops a daily devotional habit in just a few pages a day

Encourages people to

join

 small group

s for thought-provoking discussion

Appeals to some of the harder-to-engage people in your congregation, including teens, collegians, and men
What you Get in the Bible Questions Campaign Kit:
Six weeks of inspiring sermons on the Bible to jump-start your message prep

PowerPoint and Easy Worship presentations you can customize

Message note templates in Word and InDesign

Info about invitational tools by Outreach, Inc. to invite your neighbors to the series

Free campaign planning guide with step-by-step instructions

How to Conduct a Bible Questions Panel Q & A

Small Group Leader Answers and Tips
Cost: $49.95

Buy the Bible Questions books in bulk for each person to use for daily individual reading and small group discussions during the campaign.
See the Bible Questions Participant's Guide
Why use the Bible Questions Church Campaign from Pastor Mentor?
1. You know the constant pressure to preach.
You want your preaching to be world-class so your congregation grows in their knowledge of the Bible and their love for Jesus.
But that's hard to do every seven days.
Hal gets that. Like you, he's a Lead Pastor in a local church preaching nearly every weekend, working to lead a growing church.
2. Church campaigns ignite enthusiasm and commitment.
Hal writes and publishes church campaigns because he knows they bring growth at his church – and he wants to help other pastors experience the same growth.
He has partnered with Outreach, Inc. and InterVarsity Press and his campaigns have been used by hundreds of churches around the world.
3. A church campaign is easy to do.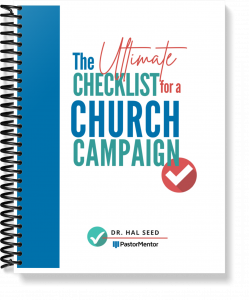 There are 3 steps to holding a church campaign:
Plan it. Set the dates and pick a campaign.
Prep it. Get the free download "The Ultimate Checklist for a Church Campaign" to see how to maximize your results.
Hold it. Preach with confidence and excellence. See new attenders and spiritual growth.
Order your Bible Questions Campaign Kit today!
Limited Time Bonus: get a free Bible Questions book with your purchase of a Bible Questions Campaign Kit!
Cost: $49.95
Customers Also Bought:
Learn More About a Bible Questions Church Campaign: