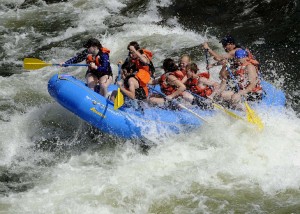 Every Senior Pastor should get away from his church for more than ten consecutive days every summer.
It doesn't seem practical, but it's a wise decision for your healthy life and church.
Why Pastors Should Get Away this Summer
1. To Get Recharged
Most of my large church pastor friends have been leading their churches for over ten years. Almost all of them take four to six weeks away every summer.
When I first learned this, I asked, "Why do you take so much time away?"
They all said, "If I didn't, I don't think I'd be in ministry today."
The one exception was a friend who had dropped out of church-ministry at age 56. He said, "For 16 years I ignored taking extended time away. I think if I'd taken regular time away, I'd still be in ministry."
I've been at New Song over 30 years now, and I'm pretty sure I would have gone somewhere else or done something else if I hadn't begun taking an annual summer break.
Right now you may be thinking, "Yeah, but those guys are all from large churches. I can't afford to take extended time away!"
Yes, these guys all have competent back-up. But if you're carrying the spiritual weight of your church plus preaching over 40 times a year, you need a break as well. And I don't mean a vacation. You need that too. I'm talking about a summer break.
Senior pastors carry a spiritual burden and work load that is different from other professions. According to Barna, as of 2022, just 52 percent of pastors are "very satisfied" with jobs. That's down from 72% of pastors in 2015 who felt "very satisfied".
You are probably feeling less fulfilled and fruitful in your job than you were pre-pandemic.
Every preaching pastor needs time away to recharge. No one can preach well from an empty bucket. But the real reason to get away isn't to skip a few weeks of message preparation. The real reason is because of the weight of ministry – the spiritual weight of the cares of all the people you shepherd.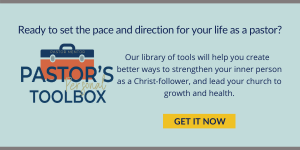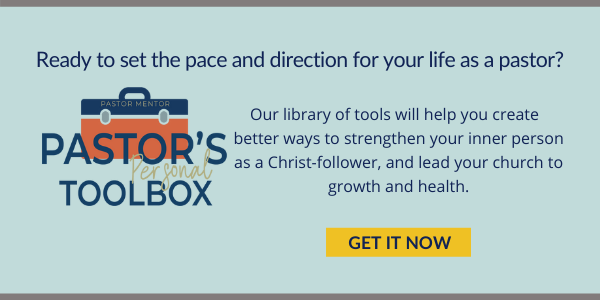 2. To get perspective
Every time I fly somewhere, whether it's for a conference, speaking engagement, or vacation, I come home with a fresh perspective on my city and church. I can be gone for as little as three days and come home seeing differently. Stepping back enables me to see old situations in a new light. My church benefits from this.
3. To learn from others
For a pastor, part of the "stepping back" should include seeing other ministries. I believe that the Lord wants us to assemble with believers every Sunday. So during my break, I assemble with other churches. One friend tells me he tries to attend three to four churches per weekend on his breaks. That's a little more than I can manage, but you get the point.
A few summers ago I visited two churches that both had engaging worship and quality teaching. As I sat in the congregation I wondered, "What is it about this church that's distinctive, and how would a visitor know it?" That thought motivated me to develop what we called our "DNA Statement." It's a statement of New Song distinctives – core commitments that differentiate us from other churches in our area. These statements are helping refine us. I wouldn't have thought to write them out without visiting those other churches.
Reasons Not to Take a Break
There are a lot of obstacles to taking extended time away. Let me help you with a few of them.
1. 

The church can't handle the pastor being gone that long.

Response: If your pastor gets called to a greener pasture, you'll figure out how to do without a senior pastor for much longer than a few weeks. Plus, the quality of your pastor's post-break ministry will be higher, so it's worth any dip in quality during his absence.
2. The church can't financially afford for the pastor to be gone that long.
Response: Two issues here. One is paying the pastor while he's not working. The other is the inevitable giving-dip that happens when less people show up.
First, the not-working issue: My summer break is a working break. I take four weeks away from New Song, but during that time I work 10-12 hours a day. My break is a writing break. During breaks I've written The Bible Questions,  the I Love Sundays campaign, and a training curriculum for Dynamic Church Planting International.
My break is a change of routine and what I produce benefits New Song as well as the wider Kingdom.
Second, the financial issue: having your pastor out of the pulpit may mean fewer donors in the pews. Many churches deal with their summer giving-slump by developing online and automated giving programs to enable members to give even when they're not present.
3. Who will fill the pulpit?
Response: Use video teaching. One of my friends who pastors a 5,000 member church showed a three week video series by Andy Stanley. Large churches demand quality teaching every weekend. Andy delivered.
Or use a staff member who can step up, a denominational leader, a college or seminary professor, or a retired pastor looking for places to preach.
4. Four to six weeks is too long for our size church.
Response: Then shorten it to 14 to 19 days. In my opinion, the minimum is two consecutive Sundays away so that the pastor doesn't spend all his "away" time preparing for the next week's sermon.
Pastors who need to keep producing during their break time should work on things they love doing and would have to do at some other time anyway. For most pastors, that's sermon preparation. Writing a few sermons ahead of time, disengaging from the weight of the flock, and getting fresh perspective visiting other churches will help them be better leaders throughout the rest of the year.
Now What?
Get our worksheets, Plan for a Summer Break, to work through the issues that hold you back.
You can find them in the Pastor's Personal Toolbox. It's a library of our best tools and resources — all in one place. Tap below to learn all about it, and get the planning sheets that will help you think through  the issues you'll need to solve to take a break this summer.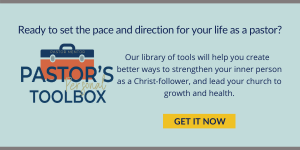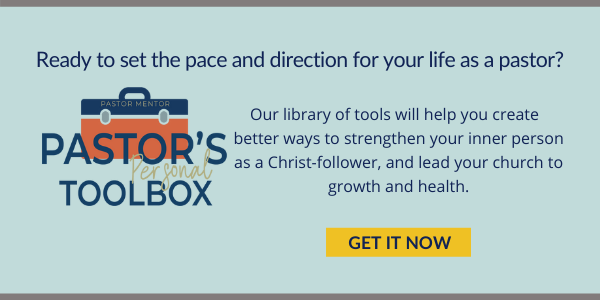 Blessings on you as you pursue the best for your own life and your church!
Further Reading
---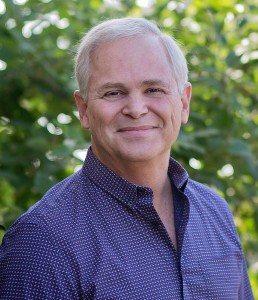 Hal Seed is the founding and Lead Pastor of New Song Community Church in Oceanside, CA. He mentors pastors who want to lead healthy, growing churches with resources at www.pastormentor.com.
Start Here to learn more about the resources available for you at PastorMentor.