Martin Luther's example will make you a better pastor.
I just got home from touring Lutherland in Germany. I wanted to see the places and hear the stories of Martin Luther firsthand.
Because I wonder: how did this man change his 16th century world? And what can I learn from his life that would improve how I live my life?
I saw museums and churches and city centers and I listened to a dozen local tour guides, and frankly it isn't easy to sort through the detail and the conflicting accounts and the sheer volume of information.
But here are 6 lessons I distilled from the life of Martin Luther that will shape how I think about my life and ministry. I think they will help you, too, pastor, as you live for Jesus, lead your local church, and make a difference in your world.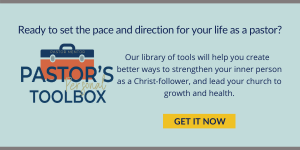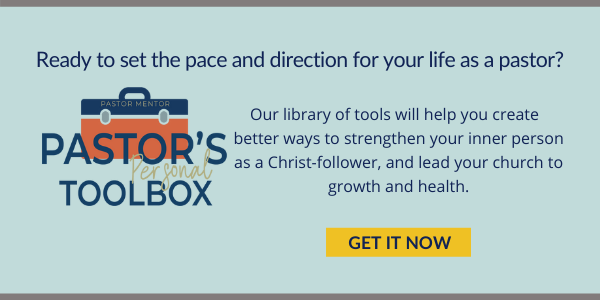 6 life lessons for pastors from the life of Martin Luther
1. Work out God's calling on your life…even if it's unclear at first.
He didn't start out to change the world. At first, he just followed his father's wishes that he become a lawyer.
He was bright, and his family had enough money to send him to a good school, so he went to the best university in the area, the University of Erfurt.
Then came the day in the storm on the road near Erfurt. He feared for his life and promised St. Anne that he would become a monk if she would save him. The promise wasn't completely unprecedented, for Luther had a growing interest in the Word of God and a keen awareness of his sinfulness.
Side Note: We drove through a German storm on the road from Augsburg to Frankfurt and I understood why Luther feared for his life. German storms are no joke.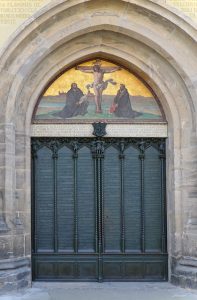 12 years later, as a monk and professor at the University of Wittenberg, when he nailed the 95 Theses on the door of the Castle Church, he didn't know the wildfire he was starting.
He just knew from what he had seen in Scripture, and on his trip to Rome, that the practice of selling indulgences to shorten time in purgatory was not Biblical.
He didn't intend to shake the foundations of western civilization. He was just calling for a scholarly debate on the subject of indulgences. He only wanted to start a conversation that could lead to some reform within the Catholic Church.
Side note: Luther probably didn't nail the Theses on the door. The janitor did. And he probably used paste, not nails. The 95 Theses were posted on the church door there with all the other town notices.
Four years later, after the 95 Theses had spread across Europe, (thank you, printing press), after being called to the first of several Councils, after making some vehement enemies in high places, and after realizing that his stand was similar to John Huss who was burned at the stake 100 years earlier, he figured he could face martyrdom, too.
Luther began to write and preach as if he had nothing to lose. He devoted the rest of his life to preaching, teaching, Bible translation, and writing for reform.
He was all in for the long haul.
"We are not yet what we shall be, but we are growing toward it, the process is not yet finished."   – Martin Luther
Question: What calling has God placed on your life? How can you clarify what God wants to do through you?
2. Grasp that God's work is accomplished through His Word.
"The Bible is alive, it speaks to me; it has feet, it runs after me; it has hands, it lays hold of me."   – Martin Luther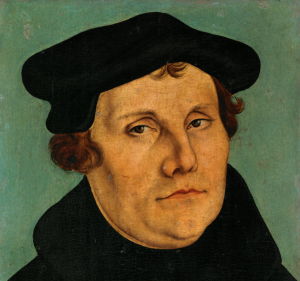 Once Luther had a Bible of his own to read and study, he was gripped by it. And he became a master communicator of God's Word.
Here's how he saw the preeminence of God's Word in the reformation that was brewing:
"Take myself as an example.  I opposed indulgences and all the papists, but never with force.  I simply taught, preached, and wrote God's Word; otherwise I did nothing.

And while I slept, or drank Wittenberg beer with my friends Philipp and Amsdorf, the Word so greatly weakened the papacy that no prince or emperor ever inflicted such losses upon it.

I did nothing; the Word did everything."
Some would argue that the preaching and writing and hymns were more than "nothing", but none would argue the centrality of the Bible in Luther's life, theology, and activism.
Question: How is God's Word central in your life and preaching? What would it look like for you to be able to say, "I did nothing. The Word did everything."?
See John Piper's article "Martin Luther: Lessons from his Life and Labor" for insight into Luther's connection to the Bible and his approach to preaching.
3. Rely on God's power released through prayer.
We are not surprised that Martin Luther knew that God's power is released by prayer. Here's what he said about answered prayer:
"No one can believe how powerful prayer is and what it can effect, except those who have learned it by experience.

Whenever I have prayed earnestly, I have been heard and have obtained more than I prayed for. God sometimes delays, but He always comes."
It's a little surprising, though, that Luther admitted that effective prayer is not easy: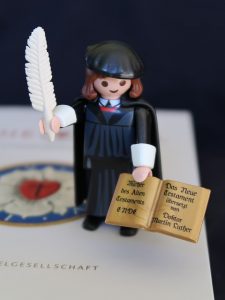 "There is no work like prayer. Mumbling with the mouth is easy… but with earnestness of heart to follow the words in deep devotion, that is, with desire and faith, so that one earnestly desires what the words say, and not to doubt that it will be heard: that is a great deed in God's eyes."
Luther knew the balance between God's work and his effort:
"Pray like it all depends on God, then when you are done, go work like it all depends on you."
I like these three things about how Martin Luther prayed:
He often asked his friends to pray for him: for his health, for his strength to persevere, for his ability to do God's will.
He prayed the Bible. He wove in and out of Scripture when writing to his friends asking for prayer and praying for them.
He recommended short prayers.
"Besides, a good prayer mustn't be too long. Do not draw it out. Prayer ought to be frequent and fervent."
Question: What are you praying for God to do through your life? Are you praying with the "desire and faith" the Luther mentions?
For Luther's original writings on prayer see "A Simple Way to Pray (for Master Peter the Barber)  by Dr. Martin Luther". For a nice summary on Martin Luther's Prayer Life, see the article by Julian Freeman, a Canadian Baptist Church Planter and Pastor.
4. Recognize that you're fighting a spiritual battle.
Luther knew a spiritual battle was raging around him.
The paintings by Lucas Cranich the Elder, who was the Court Painter of Frederick the Wise, Cranich's son, the Younger, and their school of painters, picture the spiritual battle. In their paintings, demons with little horns, big noses, and bad teeth, lurk as close to the heroes of the reformation as the angels will let them get.
When he preached in his college town of Erfurt on the way to the Diet of Worms, the balcony threatened to collapse. Then when he preached in Gotha on that same journey, stones abruptly fell off the 200 year-old-tower.
Luther said these signs were the work of the devil, who was angry, but was unable to stop the river of the Holy Spirit strengthening reformation.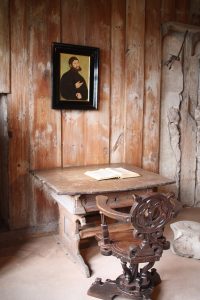 The room in Wartburg Castle where Luther translated the New Testament into German during 11 months of hiding after the Diet of Worms tells the story of another spiritual battle.  There was the famous ink splotch on the wall from Luther throwing his inkwell at the devil harassing him.
Perhaps it was the influence of the the middle ages, or the importance of the times, but Luther understood the spiritual battle he was fighting.
Here's what Luther said about the fight:
"The best way to get rid of the Devil, if you cannot kill it with the words of Holy Scripture, is to rail at and mock him. Music, too, is very good; music is hateful to him, and drives him far away."

"I often laugh at Satan, and there is nothing that makes him so angry as when I attack him to his face, and tell him that through God I am more than a match for him."
I think what Luther said about who Satan attacks is revealing:
"When the devil wants to cause offense against the true doctrine and faith, he does not do so through insignificant people, who do not rate highly with the world, but through those who are the very best, the wisest, the holiest, and the most learned."
Question: Do you recognize the spiritual battle when it breaks out around you? Are you as bold in the fight as Luther?
5. Surround yourself with people that you trust and enjoy.
I wonder if Martin Luther could have persisted, or if the Reformation would have caught fire like it did, if it weren't for the people he had around him. God gave him a team.
I think they were placed around him by the Holy Spirit to cover every angle and need for Luther, and to further the spread of the Reformation.
When Luther was 14, his parents sent him to Eisenach to learn Latin in preparation for university. He lived with relatives for awhile, then was taken in by the influential Cotta family. They were godly and prosperous – two things that were new to him. He called those years the best and the town the dearest.
His confessor and mentor in his early career was Johann von Staupitz. He encouraged Luther to channel his prodigious intellect into an academic career, taught him about sin and grace, and later promoted him to Chair of Theology at University of Wittenberg, a position Luther held for the rest of his life.
Elector Frederick the Wise founded Wittenburg University, brought Melanchthon to town, and protected Luther along the way, most importantly at Wartburg Castle after the Diet of Worms.
Philip Melanchthon was a brilliant scholar and statesman, Luther's colleague at the University of Wittenberg, and fellow proponent of reformation.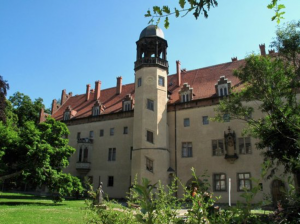 His wife, Katharina von Bora, was a former nun who proved to be a capable household manager. They married when Luther was 41, promptly had 6 children, adopted 8 more, and housed and fed students and others in need. Katie managed the property, bought and sold cattle, ran a brewery, boarded students, and opened a hospital when it was needed.
Luther called her the "boss of Zulsdorf" and "the morning star of Wittenberg" because she rose at 4 a.m. each day. His regard for her, and their ministry home, became the model for clergy marriages.
Luther commented that his children were the "best gifts of God". He grieved the two daughters who died young, and brought his three sons with him on his last trip to Eisleben. They were by his side the night he died.
Martin Luther was criticized and threatened his entire life, but in his inner circle were family, friends, and colleagues who shared his calling and stood by him.
Question: Do you have an inner circle of family, friends, and colleagues who make life enjoyable and who stand with you?
6. Don't get bitter at the end of your life.
"Lord, grant that anger or other bitterness does not reign over us, but that your grace, genuine kindness, loyalty, and every kind of friendliness, generosity, and gentleness may reign in us. Amen."   – Martin Luther
Luther may have prayed this, but it doesn't seem that he succeeded in living it.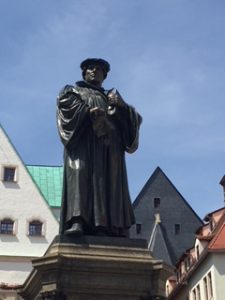 Later in his life, he was plagued by ill health: kidney stones, arthritis, heart problems, and long-term digestive problems. His 13 year old daughter, Magdelena died, and he and Katharina grieved their loss.
He was inclined to bitterness, depression and increasingly coarse, sometimes vulgar, writings. He was discouraged by the faithlessness of his fellow Germans and he wrote a diatribe Against the Jews because they hadn't turned to Christ.
Why? Perhaps he knew the Reformation had spread, but thought it wasn't enough. He had given all he had, but the work was unfinished. Incomplete.
From our perspective, five centuries later, we can see that it was enough. And though his life wasn't easy and he wasn't perfect, God did great things through him.
"I have held many things in my hands, and I have lost them all; but whatever I have placed in God's hands, that I still possess."
Question: Do you get discouraged by a lack of progress or fruit in your ministry? How will you keep from growing bitter?
What's Next?
How do you relate to Martin Luther? Where do you find hope in that?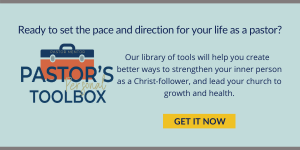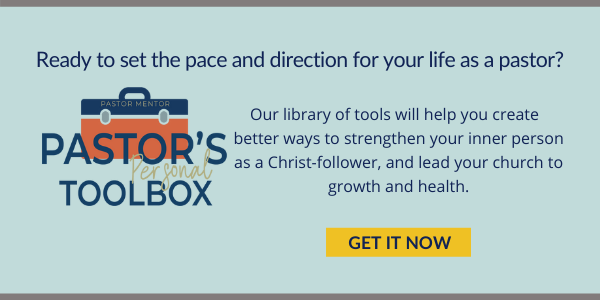 Further Reading
---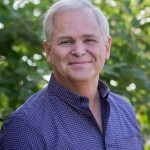 Hal Seed is the founding and Lead Pastor of New Song Community Church in Oceanside, CA. Hal mentors pastors to lead healthy, growing churches. He offers resources to help church leaders at www.pastormentor.com.
Start Here to learn more about the resources available for you at PastorMentor.