Are you wondering what to do for Easter this year? Here are our best ideas to make Easter a season of salvations and growth in your church… every year.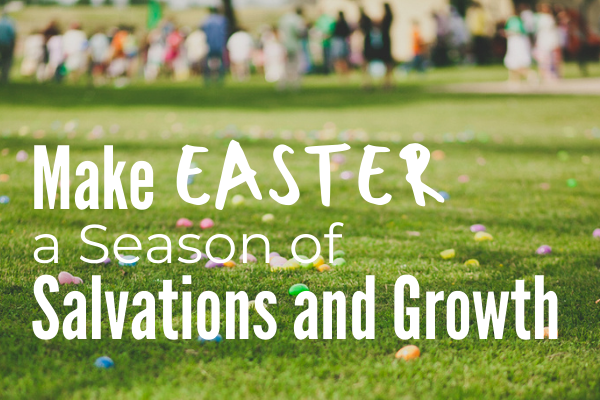 ---
14 Proven Ideas to Attract your Community on Easter
Easter is the most important day on the church calendar.
I want to take full advantage of this once-a-year opportunity. So every year at this time, New Song begins what we call our "ramp-up for Easter."
How would these fourteen tactics help you attract your community on Easter?
---
Preach to Reach all 4 Kinds of Easter Guests
If you've done your inviting well, your Easter service will be filled with four types of people.
Each of these types comes with different experiences and expectations. Each one wants and needs something different.
If Easter is to be life-changing for them, you'll need to do what they need, in order to reach them where they are, and move them closer to Jesus.
---
Impress your Easter Guests with this Free Gift
You want to make the most of Easter this year, but your to-do list looms large. And you want to do what's most important.
What can you do that will make a big impression on your guests and have a spiritual impact on them after they go home?
---

How to Attract your Easter Visitors Back
You want to look beyond attracting your community to church on Easter.
You need to figure out how to keep them coming back after Easter. Here are seven things we do.
---

A Personal Prayer Exercise for Pastors at Easter
Rick Warren has been hosting a prayer breakfast every Easter Week since 1990.
You can make this prayer experience your own. Take a minute to think about the topic, digest the Bible verses, and use the prayer prompts to spark more prayer.
---
Make Easter a Season of More Volunteers and New Leaders [Free Download]
We've found that Easter is one of our best times to expand our serving core. It's an all hands on deck first-serve that motivates newcomers and bystanders to take a first step into ministry.
---
What if God Doesn't Show Up On Easter?
Easter can cause pastoral anxiety like a groom waiting for his wedding.
After all, Easter is the most important day on every pastor's calendar. What if our celebration winds up being only average? What if visitors don't come? What if nobody comes to Christ?
It's a legitimate concern.
---

Attendance will be Down the Week after Easter – and 4 Things to Do About It
No matter how high your Easter attendance, the week after Easter will be one of your lowest attended Sundays of the year.
What can you do about the post-Easter slump?
---

How to Recover from the Post Easter Blues
Easter comes and attendance peaks. Then it falls again.
Not to its old level, but we were secretly hoping that ALL our guests would return. When they don't, well, we're human, and we get disappointed.