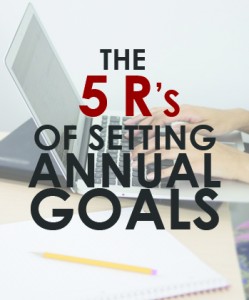 Why I Set Goals
I don't remember how I developed it, but one of the habits that stabilizes my world is goal-setting.
I like setting annual goals, and I like completing them.
Goals help me know where I am and where I'm going. They help me measure progress. I feel a sense of accomplishment when I achieve a goal. I feel a sense of hope as I make progress towards one.
My goals have helped – and sometimes forced – me to achieve more than I would have if I just went with the flow.
Goals aren't God. But in a small way, they are like the Holy Spirit. They come alongside me as I walk through my days, weeks, and months.
Years ago, I stumbled into a pattern of goal-setting that works well for me.
Maybe some of what I do will work for you, too. I don't often like alliteration, but somehow I managed to distill my process into five steps that all have a significant "R" in them.
The 5 R's of Setting Annual Goals
1. REVIEW the Year
Sometime around December 1st, our Christmas Tree beckons me to come sit quietly beside it.
Most people accelerate their pace at Christmas time. I try to slow mine down. God created the seasons to change our pace. Less sunlight hints at less physical activity and more mental and spiritual activity.
So sometime during the first week of December, I sit down with my current year's goals and check off what's been accomplished.
The common wisdom on goal-setting says you should limit yourself to three to five goals.
The reasoning goes, "You can't focus on more than a few things at a time." I disagree. You can't focus on more than one thing at a time. But you can focus on different things at different times. I set twenty-six goals last year. I'm setting twenty-five this year.
I set goals in eight different areas of my life. Goals for:
my church
my writing ministry
my support of others
my marriage
my spiritual life
my physical life
my mental life
my financial life
(In case you're wondering, I accomplished fifteen-and-a-half of my goals this year.) 🙂
Evaluating the "Wells" and the "Not-so-Wells"
During this year-end session, I also review the year as a whole.
What went well? What didn't go so well? I want to celebrate the "wells" and learn from the "not-so-wells." For example, I exercised twenty times less than last year, made very little progress on my next book, and failed to take a single prayer retreat.
What can I do to reverse these trends? Those are my first thoughts as I begin to set next year's goals.
Documenting My Top 12 Blessings
I also write down my Top Twelve Blessings for the year and I compare it to the previous years' Top Twelve Blessings.
It's an official document I add to every year. This year as a great year. My dad came to Christ, my daughter got married, my daughter-in-law got pregnant. New Song started a new campus. I knocked down a lot of debt on my mortgage. Over 1,600 people came to Christ.
I keep rejoicing over all this and thinking about how to turn by not-so-wells around next year.
Letting Go of Some 'Beyond-My-Control' Goals
You might be encouraged to know that I never accomplish all of my goals. Why? Some are hindered by forces beyond my control. We hoped to produce another movie this year, but the funding didn't materialize.
A few are hindered by my finitude. I ran out of time, or energy, or just lost interest in some of them.
Others are just not great goals. What seemed like a good idea on January 1 sours or feels like a waste of time later in the year.
2. REFLECT on What's Coming
As I mentioned, while checking off my accomplishments, I begin to think about the coming year. What will be different? What will be the same? My daughter got married last year. My goal was to pay cash for her wedding. I won't have that expense this year. My son is having is first child this year. I told him years ago I would help him buy a new car when the time came. I will have that expense this year.
At church, our mission remains unaltered: to help as many unchurched people as possible become fully devoted followers of Christ.
In the coming year, some big things will be different, but many things will remain the same.
Knowing what this year will hold helps me to evaluate my calendar to see what's realistic and in what areas I can push myself
3. RECORD Goals for the Coming Year
Goals in your head are goals that go nowhere. Anything you really want to accomplish needs to be written down.
Experts teach that "SMART" goals are specific, measurable, attainable, relevant, and timed.
Some of my goals meet that criterion, but many don't. I'm not writing goals for a boss or a classroom. Like the Apostle Paul, I'm trying to run with endurance the race marked out for me.
So I write goals that help me run right, well, and long.
Here's what this year's goals look like:
1. For New Song:
___ Grow the church.
___ See more people than ever come to Christ.
___ Launch our Parkside Campus strongly.
___ Decide on a 2015 church planter and location.
___ Produce great videos while in Israel in March.
___ Improve several of New Song's systems.
___ Improve some aspect of our building.
2. My Writing Ministry:
___ Complete The Jesus Questions book.
___ Complete the Healthy Church Systems eBook series.
___ Negotiate an updated version of The God Questions.
3. Supporting Others:
___ Hold five local training events for church planters.
___ Train church planters in Panama by Oct. 20.
___ Help First the Kingdom lead 2,000 to Christ.
___ Help launch Spiritual Progress.
4. My Marriage:
___ Take a great vacation together.
___ Love Lori deeply.
5. My Spiritual Life:
___ Take two prayer retreats by Nov. 1.
6. My Physical Life:
___ Weigh xxx by Sept. 1.
___ Swim xxx time in the 1650 by Sept. 5.
___ Exercise 208 times.
7. My Mental Life:
___ Read twenty books.
8. My Financial Life:
___ Pay $xxx off on my mortgage.
___ Donate $xxx to New Song, above our tithe.
___ Donate $xxx to missions.
___ Give $xxx to my son for a new car.[/dropshadowbox]
Why My Goals List Looks Like This
I put a blank in front of each goal because that's where I'm going to put my checkmark at the end of the year. Having that blank is a big motivator for me. I like making checkmarks!
I don't write goals for everything in my life. I didn't set any parenting goals this year. My kids are out of the home, and I'm highly motivated to see them. I don't have to set goals for fathering. It's the best thing I do, and I love doing it.
Some of my goals don't look thorough. I didn't set a goal about having a Quiet Time because that's not a problem for me. Goal-setting is for things that require effort and/or planning.
I set numerical goals for things that are easy to slack on. I do set numerical goals for the number of books I'll read and the number of times I'll exercise because it's easy to slack off on such things. Tracking these numbers enables me to measure the quality of my year by comparing this year's numbers with last year's numbers.
I don't have dates beside most of my goals. Many of them will require the whole year to accomplish, so they'll remain open until December 31st. But, there are a few that won't be accomplished if I wait until the end of the year, so I put fix dates to them. Take my swimming goal, for example. I'll be swimming better in September than I will in December, so I'm focusing my best time on that month, not the end of the year.
Some of my goals are more of a value than a goal. One of my goals ("Love Lori deeply") is more a value than a goal. I put it on the list because I like reading it every time I read the things that are important to me.
4. READ the Goals
Once I've typed up my new goals, I print them on a single, narrow piece of paper. I tape this sheet paper prominently on the whiteboard over my desk. This is the most important part of achieving goals!
Because of where I've posted them, my goals are ever before me. When I look up, they are there. I read them by accident almost every day.
Like David says in Psalm 139, they "hem me in, behind and before."
Your subconscious mind is powerful. I'm no neurologist, but I'm pretty sure the subconscious part of your brain never switches off. So whether I'm consciously thinking about my goals or not, I'm subconsciously thinking about them a fair amount. Every once in a while, I glance through my list and think, "Wow! That one's done and I didn't even realize I was working on it!"
5. RECORD Progress
Yes, I know. I already used, "record" as the third "R." But I'm not trying to preach a sermon here, just describe for you my goal-setting process. "Record" is a lot more accurate than a cute alternative like "register," "report" or "revisit." "When I say I "record my progress," what I mean is, I keep an identical goal sheet in a binder near my desk. Every time I exercise, I make a tick mark next to my exercise goal. Every time I read a book, I write down the date and title. Every time I take a prayer retreat, I note it.
This keeps me focused on the goals that get accomplished one pound, one book, or one swim at a time. This record also comes in handy in reviewing where and when I slacked off. It enables me to plan better for the next year.
People say that goals aren't for everybody. I disagree.
I think goals are for everyone who wants to be diligent with their life, and that should be everyone. Paul says, "Make the most of every opportunity, because the days are evil" (Ephesians 5:16). A year is a big opportunity.
You can't know where your money is going unless you record what you're spending. And you can't know where your time is going unless you record the important things you do, or want to do with your time.
That's what goals are: the important things you want to get done with your most limited asset, your time.
Now What?
Think about what you want to accomplish this year. Write some goals. Read through them regularly. Review and rejoice over them at the end of the year. You'll be glad you did!
Further Reading
Would you like to be sure that you are setting the best possible goals as a church leader?
Get my new ebook and walk through a step-by-step process to set and accomplish your goals.
Learn More about the Ebook: Goal Setting for Pastors
You can be confident that you are moving forward in God's plan for you.
---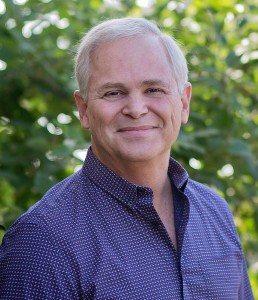 Hal Seed is the founding and Lead Pastor of New Song Community Church in Oceanside, CA. He mentors pastors who want to lead healthy, growing churches with resources at www.pastormentor.com.
Start Here to learn more about the resources available for you at PastorMentor.